Last week Loop businessman & Loop Trolley backer, Joe Edwards, said he thinks we'll eventually see cars banned in Forest Park. He'd like to see an electric powered trolley (aka vintage streetcar) on tracks circulating within the park. I know weekend traffic in the park can be so bad the #95 (Hampton) MetroBus reroutes to avoid going through the park. Cars are banned/limited at times — like the annual Ballon Glow.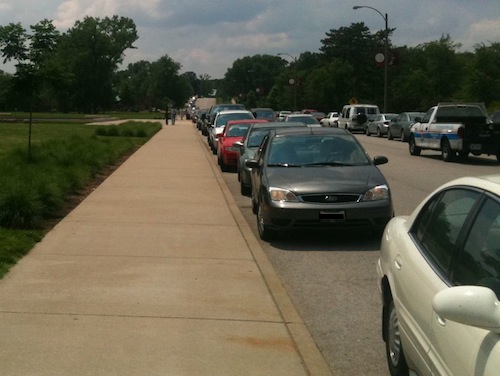 Traffic can be obnoxious in Forest Park, ruining the pleasure of being outdoors to some. I recall flying back to St. Louis one night a few years ago and lighting in the parking lots stood out like a sore thumb in an otherwise dark park.
Currently the Forest Park Trolley does a decent job for those of us who enter the park without a car.
Still, the vast majority drive into the park rather than use public transportation. This has prompted the St. Louis Zoo to buy the former hospital site across I-64/Highway 40 for additional parking with plans for a gondola to transport patrons back and forth. By eliminating some, or all, of the surface parking between the zoo and the highway the zoo can expand to the south with more exhibits.
So what are some of the options for dealing with congestion?
Bans cars at peak times or all the time

Construction of a electric trolley on a track, as Edwards suggested
Construction of an electric bus system with overhead wires like the trolley but no track
Run the existing trolley bus more frequently
Some will object to overhead wires and/or tracks, but others object to all the cars.
So this is the poll topic this week, the exact question is: How should we address auto congestion in Forest Park? I'm allowing you to pick up to 3 choices from the list. The poll is in the right sidebar.
Please take a moment to vote in the poll then share your thoughts in the comments below.
— Steve Patterson