The St. Louis Convention & Visitors Commission has been rolling out a new wayfinding system in the region for a couple of years now. From a January 2011 Post-Dispatch editorial:
The St. Louis Convention and Visitors Commission has launched a $2.9 million initiative to design, build and install an attractive and comprehensive system of street, road and highway signs. The idea is to direct tourists and residents to a rich array of sites and attractions in the city of St. Louis and St. Louis County.

The project has been in the works since 2008. So far, about 300 signs — highway, street-level and pedestrian — have been installed or are slated for installation. The signs aren't cheap: Fabricating and installing a large highway "guide" sign costs more than $20,000. (stltoday.com)
For example: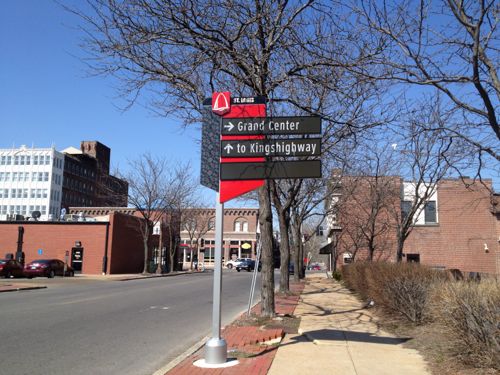 Lately these have begun to turn up downtown.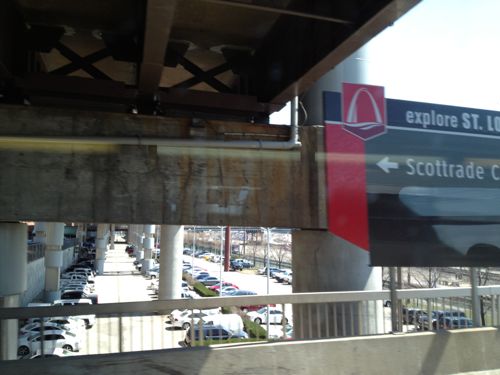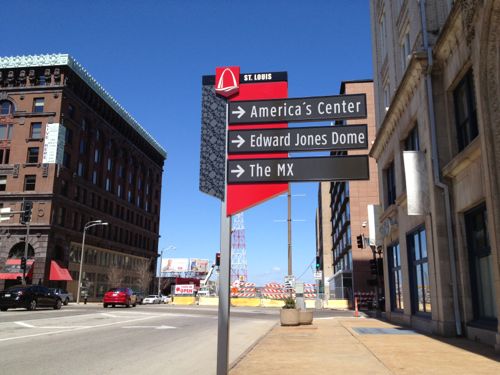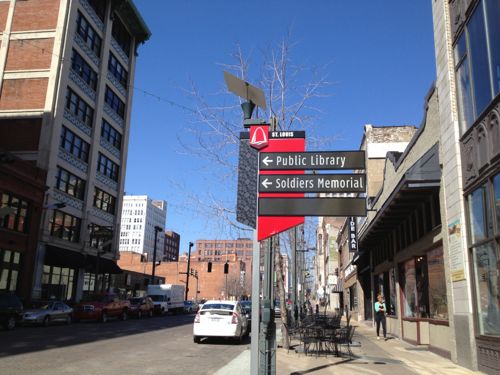 Until the other day all the signs I'd seen have been like the ones shown above, or larger highway exit signs. Them I finally spotted, at Citygarden, a sign to help pedestrians downtown.
But it was placed in the middle of a planter bed so I wasn't able to get close enough to evaluate its effectiveness. Great planning!
I get asked directions often and I enjoy helping others. Two common requests are for places very close to my loft: the Social Security office at  717 N 16th St and City Museum across the street at 701 N 15th St. The other day at 10th & Washington a woman asked where to find the "landmark Arch." I pointed east on Washington Ave.  When she asked if she should then turn right I told her she'd see it.
The following describes the process that took place to establish the system:
The Missouri Department of Transportation, along with the CVC, St. Louis City, Laumier Place, Grand Center and Forest Park funded the research needed to implement the program. Three "attraction corridors" were created in determining the locations of the signs. The first corridor is Broadway, second is Grand, and third is Kingshighway, with all three connecting major attractions and districts in the city. The entire program, including the research to implement the program cost 1.5 million dollars. CVC did apply for grants but was not successful in receiving any funding. The CVC worked with MODOT to identify those organizations that would provide funding for the wayfinding program. An important goal of the program for MODOT was to reduce sign clutter on the interstates in order to comply with Federal Highway standards. (continue at Cherokee Street News)
Hopefully I'll be able to locate another pedestrian-oriented wayfinding map to evaluate. I don't have a clear picture of the overall system and the CVC website wasn't helpful.
Have you seen any of these new wayfinding signs? If so, what do you think?
— Steve Patterson