An interesting new concept will open for business next month:
Is St. Louis ready for one of the tallest bouldering walls in the nation? Or a banquet facility where attendees can watch rock climbers scale a 55-foot wall? Or a corporate party that includes rock climbing? Ready or not, Climb So iLL will be opening in the historic City Hospital Power Plant in mid-March. (St. Louis Business Journal)
You'll be able to grab lunch at a restaurant while viewing the climbing space.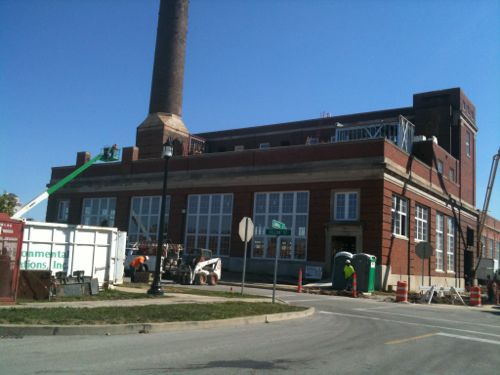 This is a creative  use of a difficult building:
Listed on the city's historical registry, the Power Plant supplied power to the St. Louis City Hospital for nearly 50 years. The City Hospital complex is made up of several buildings including the Laundry Building, the Administrative Complex, the City Hospital itself, and the Power Plant.

 The once abandoned City Hospital has been renovated into the Georgian Condominiums, and the Laundry Building is now home to the Palladium Banquet Center. Several other construction projects are underway on the site. Phase two of construction hopes to bring with it a bakery, a micro-brewery, a locally-grown food processing distribution center, and a hotel. (climbsoill.com)
It has been nice seeing the City Hospital site develop over time. The streets and sidewalks have been in place and one by one the development is filling in between.
This is an example of what I was talking about the other day regarding The Bottle District — the planning was done and the infrastructure (streets & sidewalks) to connect development parcels within the site and to the adjacent neighborhoods. As demand and financing becomes available vacant buildings are renovated and occupied and new construction is built to fill in other areas.
We need more of this — plan the site, put the infrastructure in place and build/renovate over time. The developer of the site isn't responsible for financing all the future renovations and new construction at the beginning. For more info and artist renderings of the rock climbing gym see climbsoill.com.
– Steve Patterson