Recently, on my way home from the Schlafly Tap Room, I ran into problem after problem.  At 19th there was no curb cut so I couldn't continue east.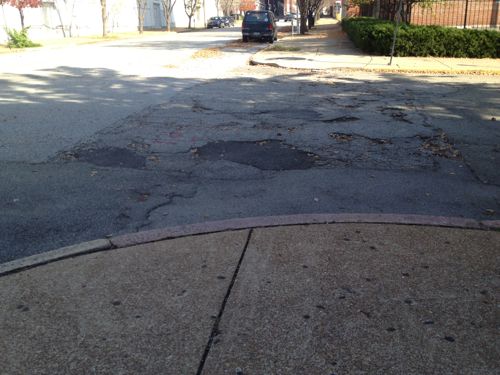 As I had to do at 22nd to get to the Tap Room, I thought I'd go mid-block and cross at the alley. But turning south on 19th I discovered another problem newer than the granite curb.  A friend went with me a few days later to get pics of me on what's left of the sidewalk.
Based on city records, a $1.3 million renovation project took place in 2007 to create  I saw no separate building permit listed for an exterior ramp and stairs. I don't know who's at fault for this, but something has to change! The public sidewalk cannot be pinched down this narrow for private use.
Was it designed this way?  Perhaps, but my guess is a field change made the steps wider so the open door wouldn't block the steps (see 2nd pic). However it happened, it should've been caught by someone in the city building department.
I see two solutions to be paid for by the responsible party: remove the extra wide part of this construction or take out the adjacent parking lane to widen the sidewalk. Neither will be cheap.  Just removing the parking meter might be marginally acceptable.
But wait, there is more!
The 3-story building contains multiple tenants, including  Jim Edmonds 15 Steakhouse on the first floor, insideSTL.com on the 2nd floor and a law firm on the 3rd.
I'm emailing this post to Todd Waelternan, Director of Streets, and David Newburger, Office on the Disabled, for action. I'll be discussing this and other topics tonight with DJ Wilson on KDHX's Collateral Damage show at 8:30pm.
— Steve Patterson